The Bracknell Southern and Western areas comprise of some 400 acres of retail, trade counters, industrial, warehousing and office space and are located to the west of Bracknell town centre. The area is home to approximately 255 businesses, many are key, not to just Bracknell and Thames Valley, but also nationally and internationally.
The area has become a Business Improvement District in 2020, known as Bracknell BID which is the trading name of Bracknell Investment Group.
A Business Improvement District (BID) is a defined area in which a levy is charged on all business rate payers in addition to the business rates bill. This levy is used to develop projects which will benefit businesses in the local area. There is no limit on what projects or services can be provided through a Business Improvement District. The only requirement is that it should be something that is in addition to services provided by local authorities. Improvements may include, but are not limited to, extra safety/security, facilities, cleansing and environmental measures.
The Bracknell BID is a business led not-for-profit partnership created to deliver additional services to improve the local trading environment.
Bracknell BID and The Lexicon are partnering to host a jobs fair in the Princess Square Shopping Centre Atrium on 30th June, from 10:30am to 4pm. BID area businesses will be able to host a stand for free to promote job vacancies to a wide group of suitable job seekers and local candidates. The event […]
Read More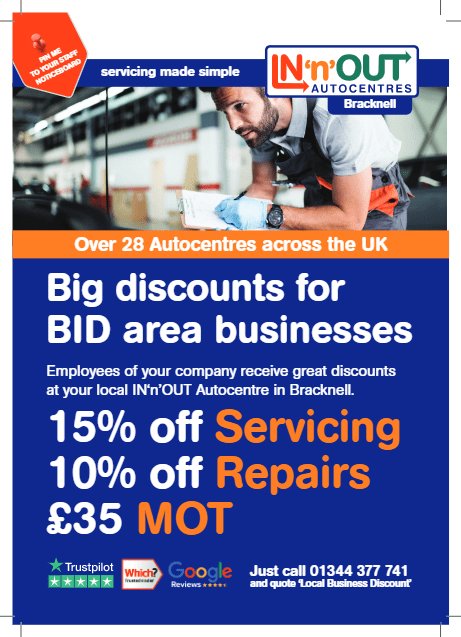 IN 'n' OUT Autocentres are offering an exclusive discount to Bracknell BID area employees, including: 15% off Servicing 10% off Repairs £35 MOT BID area employees can redeem in store by stating they work with a business in the BID area.For more information on the discount, the flyer can be seen here. IN 'n' OUT Autocentres […]
Read More
To contact Bracknell BID or sign up to our newsletter please visit our contact us page and use the links or contact form.